Windows 7
/
Getting Started
---
Understanding the Task Scheduler Architecture
Task Scheduler supports an isolation model in which each set of tasks running in a specific security context is started in a separate session. Task Scheduler engines running in transient processes in the user or computer context process the execution defined to be started by a trigger. Tasks can be started in a computer account context such as LocalSystem, LocalService, or NetworkService, or they may be started in a specified user context. Task Scheduler also attempts to ensure task integrity even when a user's domain credentials are updated (applies to Windows Server 2003 domains only).
Tasks can be started either locally or remotely. Each task may contain multiple actions running in series. Multiple tasks can be started in parallel or serially to perform a series of synchronized operations using the events logged by the service. A set of predefined events in the System event log as well as the private Task Scheduler Operational event log are used to record each action's execution status for monitoring, synchronization, and health management.
The simplified block diagram shown in Figure below illustrates the high-level architecture implemented in Task Scheduler 2.0 (the version in Windows Vista and later).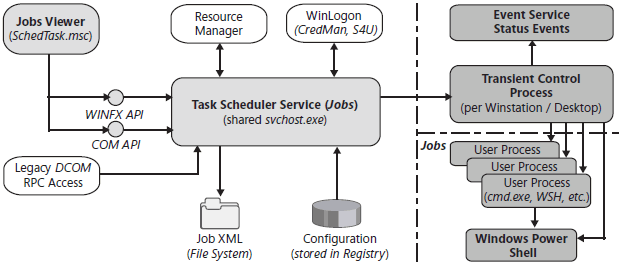 Task Scheduler combines several components that work together to provide the Task Scheduler user interface, the task execution engine, and event tracking and management. Specifically:
The Task Scheduler user interface has been redesigned in the MMC .NET snap-in SchedTask.msc. This GUI includes a wizard for creating and configuring tasks and property pages that accesses the Task Scheduler service through its COM API.
A shared Svchost.exe loads the Task Scheduler Service DLL SchedSvc.dll using a LocalSystem account, uses the TaskSchd.dll component to interface with the Resource Manager, and uses S4U to obtain the required credentials. This service DLL also reads configuration information from the registry and writes job tasks to the disk in XML format.
The Transient Control Process engine TaskEng.exe runs in the context of the taskdefined user account, logs Event Log status events, and generates user processes that execute actions defined by the task.
The TaskComp.dll component provides backward compatibility for management and execution of tasks that were created in previous versions of Windows.