Windows 7
/
Getting Started
---
Startup Troubleshooting Before the Starting Windows Logo Appears
Troubleshooting startup problems is more challenging than troubleshooting problems that occur while Windows is running, because you cannot access the full suite of troubleshooting tools included with Windows. However, Windows does provide several tools that you can use to identify the cause and resolve the problem if you cannot start the operating system. Most important, you can start WinRE by booting from the Windows Vista DVD or directly from the computer's hard disk. WinRE can start automatically if Windows cannot start correctly. The WinRE tools include the Startup Repair tool, which can automatically fix many common startup problems.
Follow the process illustrated in Figure below to troubleshoot startup problems that occur before the Starting Windows logo appears. After each troubleshooting step, you should attempt to start the computer. If the computer starts successfully or if startup progresses far enough to display the Starting Windows logo, you can stop troubleshooting.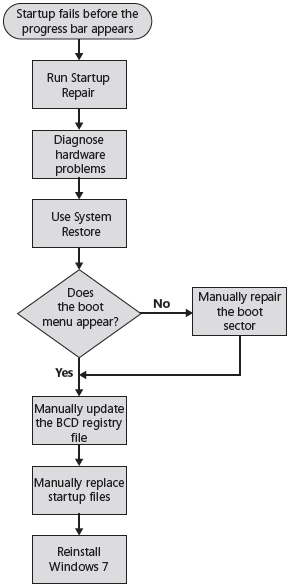 The following sections describe each of these troubleshooting steps in more detail.
Note A fter you enable Windows BitLocker, a lost encryption key can result in an unbootable computer. For information about BitLocker.
How to Run Startup Repair
To run Startup Repair, open the System Recovery tools and then start Startup Repair, as described in the next sections.