Windows 7
/
Getting Started
---
Startup Troubleshooting After the Starting Windows Logo Appears
If your computer displays the graphical Starting Windows logo before failing, the Windows kernel was successfully loaded. Most likely, the startup failure is caused by a faulty driver or service.
Use the process illustrated in Figure below to identify and disable the failing software feature to allow Windows to start successfully. After Windows starts, you can perform further troubleshooting to resolve the problem with the feature if necessary. If the startup problem occurs immediately after updating or installing a startup application, try troubleshooting the startup application. For information about troubleshooting startup applications, see the section titled "How to Temporarily Disable Startup Applications and Processes" later in this tutorial.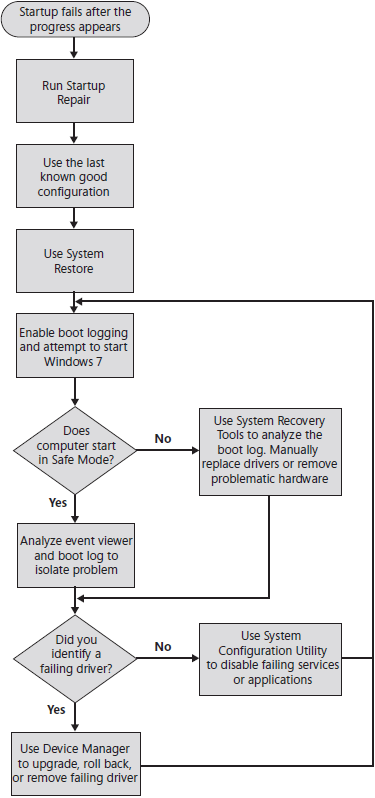 The sections that follow describe each of these steps in more detail.
How to Run Startup Repair
Startup Repair can automatically fix many common startup problems, even if the problem occurs after the Starting Windows logo is displayed. Because Startup Repair is easy to use and has a very low likelihood of causing additional problems, it should be your first troubleshooting step. For detailed instructions, refer to the section titled "How to Run Startup Repair" earlier in this tutorial.
After running Startup Repair, attempt to start your computer normally and continue with the troubleshooting process only if Windows fails to start.