Windows 7
/
Getting Started
---
Modes of Operation in Offline Files
Offline Files in Windows Vista and later versions has four modes of operation:
Online mode This is the default mode of operation and provides the user with normal access to files and folders stored on network shares and DFS scopes. In online mode, any changes made to files or folders are applied first to the network server and then to the local cache. Reads, however, are satisfied from the cache, thus improving the user experience.
Auto offline mode If Offline Files detects a network error during a file operation with an SMB shared folder or a DFS scope, Offline Files automatically transitions the network share to auto offline mode. In this mode, file operations are performed against the local cache. Certain file operations cannot be performed in auto offline mode, however, such as accessing previous versions of files. When Offline Files is in auto offline mode, by default it automatically tries to reconnect to the network share every two minutes. If the reconnection is successful, Offline Files transitions back to online mode. Note that users also cannot initiate a manual sync when in auto offline mode.
Manual offline mode When a user has a particular network share open in Windows Explorer, the user can force a transition from online mode to manual offline mode for that share by clicking Work Offline on the command bar of Windows Explorer. Available file operations in manual offline mode are the same as when in auto offline mode. Manual offline mode persists across restarting the computer, and the user has the options of manually syncing an offline item by clicking Sync on the command bar of Windows Explorer and of forcing a transition to online mode by clicking Work Online on the command bar of Windows Explorer. If the user forces synchronization of an offline item, the item remains offline.
Slow-link mode If the Configure Slow-Link Mode policy setting has been enabled and applied to the user's computer using Group Policy, a network share will transition automatically to slow-link mode when Offline Files is in online mode but network performance degrades below the specified threshold. For more information, see the section titled "Managing Offline Files Using Group Policy" later in this tutorial.
Note Beginning with Windows Vista SP1, you can now rename and delete offline files when in offline mode. However, this feature must first be enabled in the registry. See http://support.microsoft.com/kb/942845 for more information.
Figure below summarizes the conditions under which transitions occur between different modes.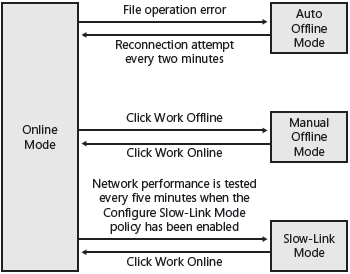 Table below summarizes where various file operations are satisfied (on the local cache or network server) for each mode.
Table Where File Operations Are Satisfied for Each Mode
| | | | | |
| --- | --- | --- | --- | --- |
| Mode | Open/Create File | Read from File | Write to File | Browse Folder |
| Online | Server | Cache (if in sync with server) | Server then cache | Server |
| Auto Offline | Cache | cache | cache | cache |
| Manual Offline | Cache | cache | cache | cache |
| Slow-link | | Cache | cache | cache |
Table below summarizes the availability of synchronization (manual or automatic) for each mode.
Table Availability of Synchronization for Each Mode
| | | |
| --- | --- | --- |
| Mode | Automatic Synchronization | Manual Synchronization |
| Online | Available | Available |
| Auto Online | Not Available | Not Available |
| Manual Offline | Not Available | Available |
| Slow-link | Not Available | Available |