Windows 7
/
Getting Started
---
Configuring Device Installation Settings
During the Out-Of-Box Experience (OOBE) stage of a Windows 7 installation, a Set Up Windows dialog box is displayed, offering three choices:
Use Recommended Settings
Install Important Updates Only
Ask Me Later
If the Use Recommended Settings option is selected, either by the user during a manual install or using an answer file during an unattended setup, the Windows 7 device installation experience will be configured automatically to search Windows Update for the latest device drivers before searching the driver store on the computer.
If users later want to change this behavior, they can do so by performing these steps:
Click Start, then Device And Printers to open the Devices And Printers folder.
Right-click the computer icon and select Device Installation Settings.
Select an appropriate option on the Device Installation Settings dialog box: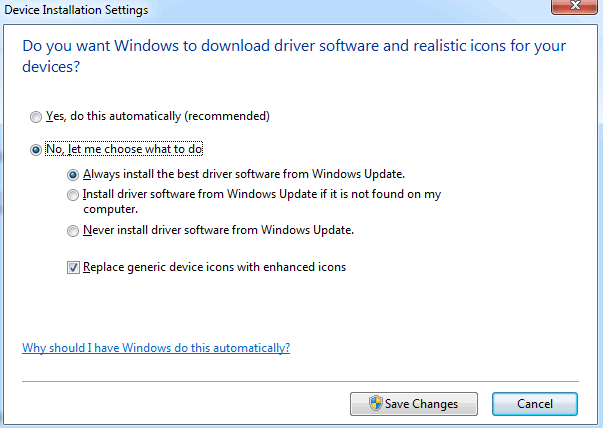 Administrators can prevent users from modifying the Device Installation Settings on their computers by using Group Policy. For more information, see the section titled "Managing Device Installation Using Group Policy" later in this tutorial.